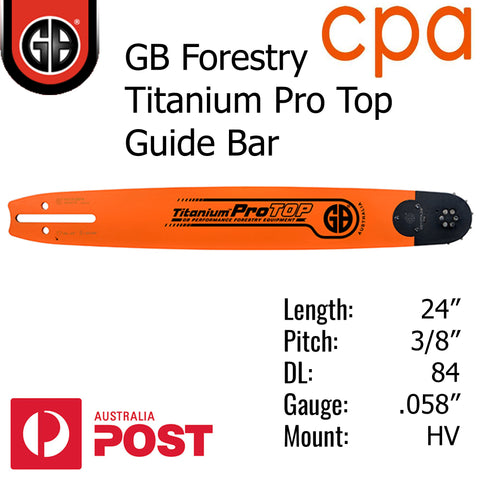 24" GB Titanium PRO TOP GUIDE BAR - 3/8" (.058") - HV24-58PA
---
The original Titanium Pro Top range is a tried and tested full professional replacement nose bar. They feature a one piece solid steel body; specially heat treated and tempered for high strength. Super tough, high tech alloy sprocket glides on precision Swiss bearings.
Includes all parts shown.

Supplier- G B Forestry

Quality- Suitable for professional workshop maintenance/ repairs/ rebuilds.

Preferred farm/forestry/home workshop parts supplier.

Guarantee- 30 days, rtb.

Reviews- Search the internet for " G B Forestry"

Look at my feedback!

Delivery- All parts stocked in Australia.

Same working day dispatch for orders paid by 12:00pm

Carrier- Australia Post assured


Products Specs- Designed to fit the following models, with bar & chain reference numbers:
IMPORTANT!  IF YOU ARE NOT CERTAIN OF BUYING THE CORRECT BAR & CHAIN, PLEASE MESSAGE US FIRST TO CHECK. IT'S QUICK & EASY! SCROLL TO THE BOTTOM OF THIS LISTING, AND CLICK ON THE "Ask a question" LINK. RETURNING THESE PRODUCTS IS EXPENSIVE & THE BUYERS RESPONSIBILITY. REFUNDS ARE MADE AFTER DEDUCTING THE ACTUAL COST OF P&P TO YOU, IN ADDITION TO A 20% RESTOCKING CHARGE.
Products Specs
24" gb  Titanium pro top guide bar - 3/8" (.058")
Length 24"
Pitch 3/8"
DL 84
Gauge .058"
Mount HV

Brand/Model-

ALPINA: 760, P70, P700, P750, P800

CASTOR: CP700, CP750, CP800

DOLMAR: PS6400, PS7300, PS7900

HUSQVARNA: 1100, 160, 162, 163, 180, 181, 185, 2100XP, 2101, 260, 261, 263, 266, 268, 272, 280, 281, 285, 288XP, 298, 3120XP, 362XP, 365, 371XP, 372XP, 380, 385XP, 390XP, 394, 395XP, 480, 570, 575XP, 61, 62, 65, 66, 70, 77

JONSERED: 2063, 2065, 2071, 2077, 2083, 2094, 2095, 2156, 2159, 2163, 2165, 2171, 2186, 625, 630, 635, 670 WEST COAST

MAKITA: DCS6400, DCS6401, DCS7300, DCS7301, DCS7900, DCS7901

OPEM: K2 SUPER

PARTNER: 1655, 2055, 550, 650, 660, 716, 7700, 85, F55, F65, P100, P50, P51, P55, P65, P70, P7000, R11, R12, R14, R16, R17, R18, R19, R20, R21, R22, R23, R30, R35, R40, R416, R417, R420, R421, R422, R435, R44, R440, R517, R522, R523, R650

POULAN & POULAN PRO: 375, 395, 415, 425, 475, PP445, PP505, PP655

SHINDAIWA: 1091, 550, 575, 577, 680, 695, 757, 801, 901

SOLO: 603, 662, 665, 667, 670, 675, 680, 681, 690, 694

---